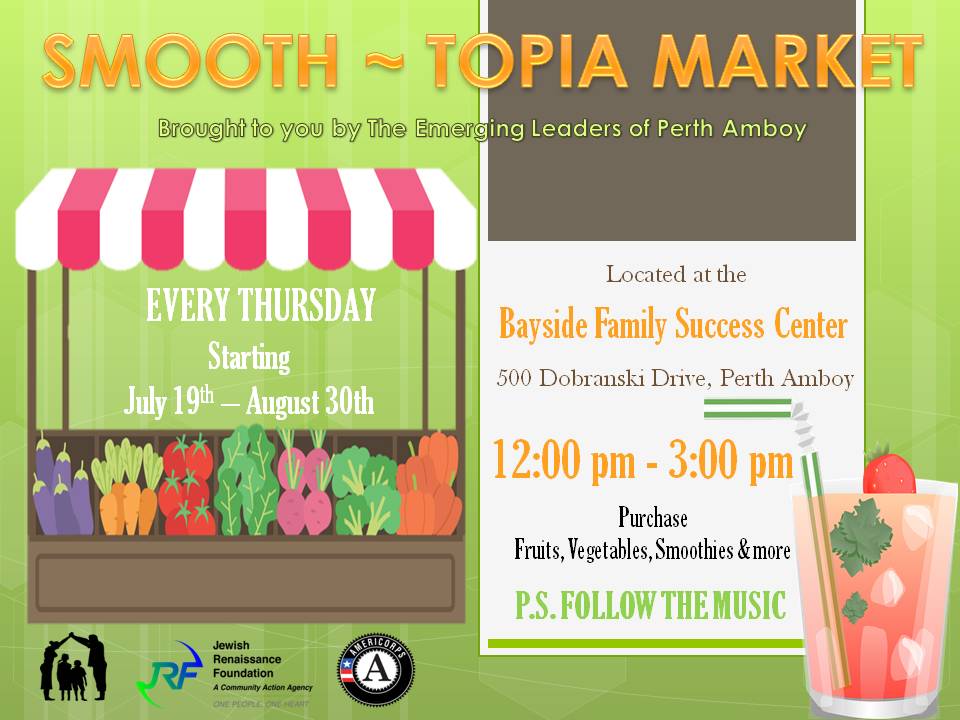 The Emerging Civic Leaders for a Healthier Community is new community service initiative that gives the youth of Perth Amboy an opportunity to obtain leadership skills while assisting key city stakeholders through the development of a tangible action plan.
This action plan addresses Perth Amboy's primary health disparities, including food insecurity. In April, the Emerging Leaders surveyed Perth Amboy residents as part of their goal to improve access to fresh fruits and vegetables. Residents reported that they were "Very Likely" to purchase cheap, nutritious fruits and vegetables from a mobile Veggie Van if it was made physically and financially accessible.
As a result, every Thursday, from July 19th until August 31st, the Emerging Leaders will sell fruit and vegetable smoothies, and fresh produce from their Smoothie-Topia stand at the Bayside Family Success Center (300 Dobranski Drive) from 12:00pm until 3:00pm. We sell locally grown, top-quality fruits and vegetables (e.g. pineapples, mangos, zucchinis, peppers, and apples) at reduced prices. We accept SNAP benefits and vouchers. Our smoothies are priced at $2.50 per cup. If you have any doubts about our location, just follow the music!!