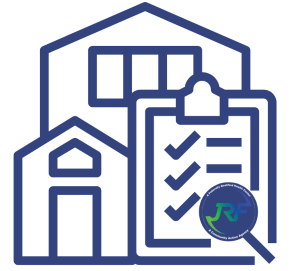 Home Inspection Certificate Program
The JRF Home Inspection Series, a certificate program, prepares one for the requirements of a New Jersey Licensed Home Inspector and the Home Inspector National Exam. The Home Inspection course is intended for individuals desiring an occupation as a licensed Home Inspector. This series also provides you with a Field Mentoring component. Both, the 10 module classroom instruction and the field mentoring experience components, are required as a prerequisite for the licensing of a Home Inspector in the State of New Jersey. Students are required to purchase textbooks separately.
The classroom curriculum includes instruction in the following:
Structural Inspection
Roofing Inspection
Electrical Inspection
Plumbing Inspection
Heating I Inspection
Heating II Inspection
Air Conditioning / Heat Pump Inspection
Exterior Inspection
Interiors / Insulation & Ventilation Inspection
Communication and Professional Practice
Field Experience Mentoring Internship: Is a mentoring program providing all students with field training conducted by licensed home inspectors during an actual home inspection. This training shall consist of 40 hours mentoring by a licensed Home Inspector, which will be interpreted as 16 completed inspections at 2 hours each along with ½ hour of report writing per inspection to equal the required 40 hours of instruction.
Prerequisite: High School Diploma or equivalent for licensure.
Course #HOMEINSPECTOR:  140 Hours        38 sessions         Course Fee $2975   
Course #FIELDMENTOR:          40 Hours        16 Inspections    Course Fee $1875
NOTE:  To earn a Home Inspector License, must complete both courses.
JRF Training & Testing Center:    500 Dobranski Drive, Perth Amboy NJ 08861
For More Information Contact: Director of Community & Family Services, Sherri Goldberg, at Sherri.Goldberg@JRFNJ.org
| FEE | SCHEDULE |
| --- | --- |
| $50 | Non-Refundable Free |
| $2975.00 | Payment Due Prior to 1st session |
| $1875.00 | Payment Due Prior the 15 Session |
| $4850.00 | Total |
---
About the Program
Funding