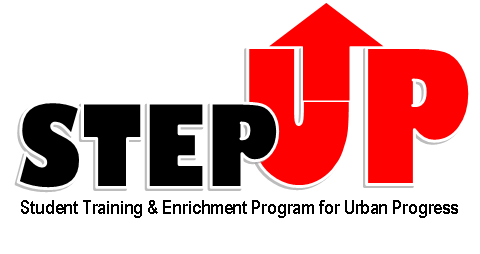 Student Training and Enrichment Program for Urban Progress (STEP UP)
When a student's high-risk behavior puts his or her education in jeopardy, Step Up intervenes with solutions. The program trains students as peer mediators who can resolve conflicts among fellow students. Also, the program director provides case management for repeat offenders and mandates community service projects.
Mission Statement
STEP-UP is a comprehensive student-centered health and wellness program that offers direct services to all students and their families at the Academy for Urban Leadership Charter School located in Perth Amboy, NJ. The goal of STEP-UP is to support students in navigating their adolescent years, completing their education, and obtaining skills which lead to employment and/or higher education.
STEP-UP provides the following services:
Community Service
Community Service is a very important component of Step-Up.  This component allows students to become leaders in their community by learning how to give back. Some examples of previous community services include Christmas Parade, Breakfast with Santa, and City Cleaning.
After School Programs
​STEP-UP also provides the students with a variety of after school programs with the goal of engaging the youth. Some programs include:
Transitional Support Program (TSP): This group is dedicated to those students who first come to the United States and find themselves disoriented and experiencing challenges with assimilation and acculturation.
Girl's Talk: This group provides a safe, healthy and supportive environment for girls to share their voices about topics affecting their everyday life.
College Readiness
STEP UP provides a number of college prep services such as:
College application support
Filling FAFSA and HESAA applications
College tours and events
Recreational Activities
A variety of recreational opportunities are offered to the AUL students that promote socialization, develop leadership skills, empowerment, and god health and positive self-esteem.
Enrichment/Recreation
Culturally diverse field trips expand participants' experience and social awareness.
Eligibility
Students at Perth Amboy Academy for Urban Leadership Charter High School, ages 12 to 18
Contact Information
If you would like more information about our programs, or wish to join, please contact Program Manager, Elba Arias, by phone at 732-646-5081 or  848-203-3742 Ext. 144 or via email at elba.arias@jrfnj.org.
Site Address
​Academy for Urban Leadership Charter School
612 Amboy Avenue, Perth Amboy, NJ 08861
Funding
New Jersey Department of Children & Families, Division of Prevention and Community Partnerships