"I guess I never realized how much this position already has impacted my life."
June 5, 2017
            I'm struggling to write about my AmeriCorps experience, and I don't know why. I love coming in every day to my site and working with my site supervisor. I love getting the opportunity to volunteer for different causes. Why is this so hard to sit down and write my experience with AmeriCorps? Some might say this is a sign that I am not happy with my position, but this would be false because I wouldn't trade the amazing feeling that I get when I wake up every day for the world. So why is this so hard? What could I tell people about my experience that they would want to know? What would I want to know before taking this AmeriCorps position? Let me pull the breaks on this. Let me answer this question, "What have I learned so far from this experience?"
            With every new position, there is always some transitioning that needs to be done, and this AmeriCorps position was no different. One of the biggest issues I faced when I first started working at my site was not being able to go to the gym in the morning. Nothing satisfied me more than getting an intense workout in before even drinking a hot cup of coffee. I had to be in by 9 am, so I didn't think I had time to get to the gym before going into work. So that would mean I would have to lean more on that cup of coffee to get the energy. When I realized that this was a big enough issue for me, I tried a few different ways to work going to the gym into my schedule. I tried going after work, skipping the gym Tuesday-Thursday; but, unfortunately, nothing was working. As time went on, I grew anxious about not going to the gym when I wanted. One night I couldn't sleep, and I sat up in bed and I thought, "What's going to make me happy?" All I could think about was getting up early and going to the gym. That would mean waking up at 6 am, so I could eat something small, wash my face, and get everything that I needed so I could go to work after the gym. I got to the gym at 7 am, showered at 8 am, and left by 8:30 am. I left feeling so much more confident like I could do anything I set my mind to. I felt like I could truly take on the world. One of the most important things AmeriCorps has taught me is that every issue, no matter how big or small, has a solution.
            Before I started serving at the Jewish Renaissance Foundation, one of my favorite quotes came from a Dr. Suess book called The Lorax. "Unless someone like you cares a whole awful lot, nothing is going to get better. It's not." This quote stuck with me because it's the reason I wanted to get into non-profit. When I started serving at the JRF, I also decided to volunteer my time at a hospice care in the office. I liked the work I was doing and I got along with the woman who supervised me, but I used to leave feeling drained. I didn't know how I could dread having to go in every Monday, considering it was only 2-3 hours once a week. I finally realized that I was pushing myself to volunteer because I thought that would bring happiness. There's a difference between loving to volunteer and caring about what you volunteer for. I assumed both went hand in hand. I realized I should be volunteering for a cause that I truly believed in. As an AmeriCorps member, I get the opportunity to help out at events for different causes. So far, my favorite event I've attended is The Hunger Games Banquet. I really enjoyed learning about hunger and stories of people who grew up living in poverty. It reminded me what I love about volunteering and how passionate I am about giving back. Being an AmeriCorps member reminds me of The Lorax quote, and I truly believe it represents me.
One of the things I love about this job is that I love the connections I get to make with the students I work with. Recently during the Earth Day cleanup in the park, I supervised two students who came to volunteer. I walked with them around the park while they picked up trash, while talking to and getting to know them. I've learned that making connections with the kids I work with put the icing on top of that already delicious cake. I will continue to make the best out of every situation that I am in.
           I think back to how I was before December 2016, and I've realized how much AmeriCorps has changed me for the better. I've become more confident in who I am since taking this position. A year ago, I would have just only gone to the gym two times a week and now I get to go at least four times a week. A year ago, I would've just continued to go to the hospice care even if it meant I would dread going in every week. A year ago, I wasn't trying to make the best out of the job I had. I've learned how to better myself and that if I want to change, I have to bring it for myself, and that the only opinion that matters is my own. I make my choices. I make my own changes.
        I guess I never realized how much this position already has impacted my life. I sat down numerous times trying to write this post, but couldn't figure out what I wanted to write about. Today I just thought how this position has changed me. I'm so lucky that I get to wake up every day and know that I'm making a difference. I can't wait to see how this has shaped me after I finish my term. Here's to the next 6 months and all the changes I make for myself.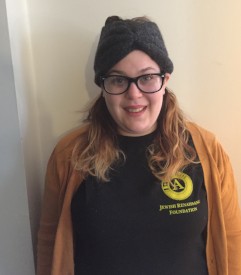 Emily Kestlinger, is a first-year AmeriCorps member serving at AUL Charter School for the STEP UP program. 
---
                                             How AmeriCorps Helped Me Grow
June 16, 2017
I recently graduated from Rutgers University with a degree in public policy and I took some planning classes.  I am very interested in urban areas and marginalized populations.  I studied a lot about the American inner city as well as Shantytowns in the developing world and even the Banlieues in France.  However, as a college student, I did not have many "hands on" experience with these populations. 
This all changed as an AmeriCorps member.  I have worked and interacted with some of the students in the Alternative Education Institute or AEI (formerly known as the Civic Justice Corps).   The AEI is a program that helps youths obtain a high school diploma where they could not have done so in a mainstream setting for a myriad of reasons.  As such, there is a stigma attached to these types of students.  However, the students that I have gotten to know were bright and seemed intuitive. Many of the ones that have participated in this program have met want to do better for themselves.   A former student now goes to Middlesex County College and another student who currently attends AEI told the bookcase manager that he wants to go to Middlesex County College and then go on to Rutgers.  I am glad that there are services like these that help people get opportunities to advance. 
I learned not everything in life books.  It is important to have knowledge if you want to pursue a career but it is good to have "hands on" experience.   As a public policy major, it is not just important to know about social issues and public policy but it is good to work with the people you will be helping.  Thus socialization plays a big important role in preparing you for what you want to do for the rest of your life.  However, as I have learned socialization even when it is done with your coworkers and people you don't know too well might not only help you with your future goals in the professional world but could also help with your emotional growth as well.  I was lucky to have good co-members like Barry and Kaylin. And great JRF staff to assist me like, Edison, Kalimah, Shakila, and others.  They were very warm and looked out for my development and well-being while I was here.  I also learned to become more firm and assertive and less shy because of them as well.
I like being part of AmeriCorps. It truly is a learning experience.  I would recommend college students and people who have just recently graduated from college to join, if possible.  You learn so much here that you cannot learn in books.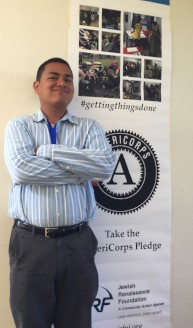 Alfonso Faura, is a first-year member serving with the Alternative Education Institute creating a youth entrepreneurship program
---
We want to hear your service stories. If you are interested in blogging your experience as an AmeriCorps member, please send your stories to Tawayna.Bailey@jrfnj.org.